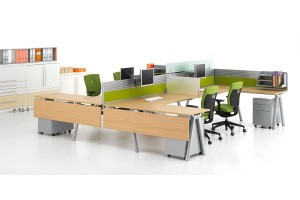 There are many benefits to leasing office furniture, especially during uncertain times such as we are currently experiencing in our economy here in the UK.  Are we in a recession, coming out of one?  Who really knows.  So, holding on your capital might not be a bad idea at the moment, and buying your business furniture on a lease makes sense.
Budget stopping you from buying the furniture you really want?
You can get the solution that you desire, rather than the one that your budget dictates, by spreading your payments over a period of between 2 to 5 years.  The repayments are generally monthly, but you can even pay quarterly or annually to suit your needs.
When it comes to your budget, it really does open up a lot of opportunities when you realise you can actually hold on to most of it!  Think about it.  You have say £50,000 to spend on new office furniture, but the range that meets all your needs is costing out at £60,000.  Rather than settle for second best, you could spread the £60k over 5 years and hardly notice the extra £10k.  In fact in this example, the difference would be about £50 a week extra.
Cash Flow Is Much Easier to Plan and Manage
You know where you are from the start with a lease with The Furniture Business.  You have fixed monthly costs for the duration of the term of your lease.  No surprises.  One easy monthly payment  each month could take care of your office refurbishment, your new office furniture, even your new carpets!
Your Business Credit Lines Are Still Available
Buying your office furniture on a lease means you still have other lines of credit available to you.  For example your bank can still offer you a loan for other expenditure that your business may have.  What's more, leasing is actually a lot more cost effective than a bank loan as loan payments don't attract 100% allowances.
Total Flexibility
Did you know you can add on to your lease at any point during your agreement?  Need another 10 positions in your office?  Add it on!  You can even increase the repayment term so that your monthly payments aren't increased, thus helping your cash flow.  Or you can increase the payment amount and retain the original end date.  It's your choice.
What Happens at the End of the Lease?
When your lease comes to and end, you can choose to either effectively rent the installation / furniture at a low monthly cost, or make a one of life time rental payment that gives you lifetime use of the furniture.  In other words it becomes yours!
Better than buying with cash?
Yes, as hard as it may be to take in, if you lease your furniture the repayments are 100% allowable, compared to paying for it from your cashflow.
If you pay the 'normal' way then only a certain amount would be allowable for tax purposes.  Because the intangible elements of a refurbishment for example HMRC would only allow you to claim capital allowance against part, not all of your project.
On average this could be around 65% of the project cost, compared with 100% on a lease.
So leasing is the most tax efficient way to refurbish and carry out fit outs, buy new furniture etc, and even more attractive to businesses that are paying a higher tax level such as big corporates and LLP's etc.