Office Furniture Hire Page Updated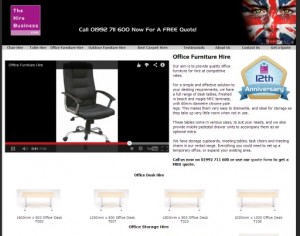 Our furniture hire site has updated their office furniture hire page at http://www.thehirebusiness.com/officefurniture.htm
If you are looking for office furniture to hire, rather than lease, then this may be of interest to you.
The main difference between leasing office furniture and hiring office furniture is with a lease you can choose the furniture you want, brand new, to your specifications and in your colours.  Then you would pay that off over 2 to 5 years, and the furniture is yours to keep at the end.  It's tax effective too.
When you hire office furniture, it would typically be for a shorter time frame, say 1 week or 1 month for example, and the furniture would be taken from our range of inhouse office furniture hire products.  So you have less control over the look, and you don't end up owning it.
If you are unsure whether you need to hire or to lease, speak to us and we can go through your requirements.  You can call us on 01992 711 600 or email quotes@officefurnitureleasing.co.uk